Wedding Bands That Are Sure to Make Your Partner Go Head Over Heels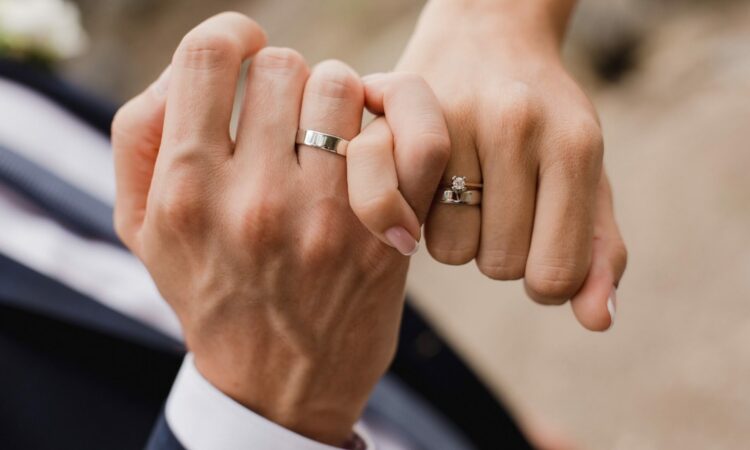 When it comes to weddings, the ring is the shining symbol of eternal love and commitment. It's that one piece of jewelry that holds immense sentimental value and completes the entire bridal ensemble. A wedding band not only signifies the unbreakable bond between two individuals but also serves as a daily reminder of the promises made on that special day. Let's explore four exquisite wedding band options that are sure to make your partner go head over heels.
1] Bezel Diamond Band:
The bezel diamond band is the epitome of elegance and modern sophistication. This design features a row of dazzling diamonds securely set within a sleek bezel setting. The bezel not only adds a contemporary touch but also provides maximum protection to the precious gemstones. With its clean lines and smooth edges, this band exudes timeless beauty and is perfect for the minimalist couple seeking a touch of brilliance.
2] Marquise Illusion Matching Diamond Band:
For those craving a unique and eye-catching wedding band, the marquise illusion matching diamond band is an ideal choice. This extraordinary design showcases a series of marquise-shaped diamonds strategically placed in a captivating illusion setting. The arrangement creates an optical illusion, making the diamonds appear larger and more radiant.
3] Matching Diamond Engagement Band:
The matching diamond engagement band seamlessly complements the engagement ring. This band is designed to align perfectly with the engagement ring, creating a stunning, cohesive look. With carefully selected diamonds set in a shared prong or channel setting, the band from Faith women's wedding bands collection accentuates the beauty of the engagement ring while adding its own touch of sparkle.
4] Semi-Eternity Matching Diamond Band:
The semi-eternity matching diamond band features a continuous row of diamonds that wrap around the finger, symbolizing the everlasting nature of your commitment. The diamonds are usually set in a prong or pavé setting, allowing them to sparkle from every angle. The semi-eternity design strikes the perfect balance between luxury and practicality, making it an excellent choice for everyday wear.
Choosing the perfect wedding band is a significant decision as it represents the eternal bond between you and your partner. Each band is a work of art, crafted to capture the essence of your love story and make your partner's heart skip a beat. So, explore these stunning options, and let your partner go head over heels with a wedding band!